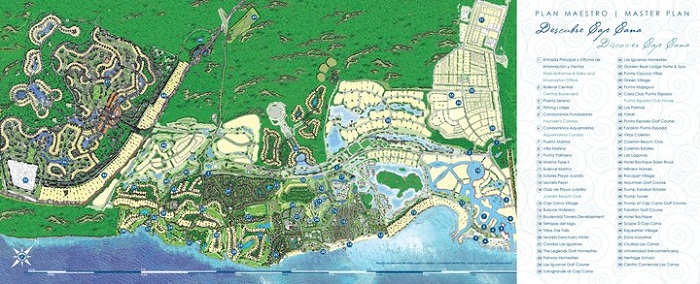 CAP CANA FACT SHEET
GENERAL HIGHLIGHTS
Located 10 minutes away from the Punta Cana International airport
A 30,000 acres, master-planned, gated, luxury resort and real estate community.
Two (2) hours away from Santo Domingo, through the new Coral Freeway
8 kilometers of Caribbean water frontage
Five kilometers of beaches
Protected inland harbor marina
Award winning golf course
Over US$1.5 Billion of real estate lots, villas, condominiums, and development parcels, during 2002 – 2012
Less than 25% of Cap Cana's footprint has been sold to date.
Over 1,500 units delivered
Diversity flora & fauna
Approximately 500 units and 2 hotels currently under construction
US$500MM of infrastructure Investment up to Date
MARINA
Phase I opened in 2007
7,760 feet of boat dockage available (including 5 slips for mega yachts)
Is the only full-service capacity between the Turks and Caicos and Puerto Rico. Offering water supply, telecommunication (wireless internet and cable)
Fuel dock of 230ft (120 gallons per minute)
Off water storage for small vessels
Privileged location only 3 miles away form one of the best fishing areas of the Caribbean. Three annually fishing tournaments
Custom and immigration facilities
Captain's business center
Catamarans, fishing, sailing, scuba diving, yacht rentals and pier fishing (specific spots)
Bank, deli- market, hotel, beauty salons, gyms, restaurants and bars
655 residential units already delivered surrounding the marina
Access to the marina beach
GOLF
Punta Espada Golf Course a Jack Nicklaus Signature golf course:

Opened in 2006
Golf course with 18 holes with a total 7,382 yards. Eight holes play along and over the sea. 15 holes of its 18 with ocean view.
Club House, with views over hole 18, the practice range and the Caribbean sea. The Club has an area of 3,252M2, a basement and a ground level, with a lobby, reception, pro-shop, bar, restaurant with capacity for 90 people and member lounge
Home to the Cap Cana Championship, an Official PGA TOUR's Champion Tour tournament celebrated 2008, 2009 and 2010
master plan includes two Nicklaus Signature golf courses under construction, Las Iguanas Golf Course, third course under design.
INFRASTRUCTURE
Electricity: 14 MW of primary, heavy fuel oil generation, plus 20 MW installed of back up diesel generators, 70km (44 miles) of underground-wired distribution cable and 50km of aerial electrical lines.
Water supply: 35 km (22 miles) of potable water aqueducts; 50 Km (31 miles) of pipes for waste water; 30 km (19 miles) of pipes for irrigation system; sewage and water treatment facilities with capacity of 900,000 gallons/day.
Telecom: 100km (62 miles) of fiber optics for voice, TV and Internet transmission, wireless coverage in extensive areas of the property
46km (25 miles) of paved road, 53km in design & construction
Approximately seven kilometers of golf car and bike track
Emergency center:
24 hours emergency center facilities including ambulance service and in house firefighter department